Grinding using direction for machine knives
The machine knives whether can get a good performance depend on the quality of grinding process. Good grinding depend on the choice of grinding equipment, grinding wheel, amount of sharpening and master level of grinding process operation. We suggest pay more attention on following:
choose the grinding machine which the end mill grinding head back and forth. Grinding spindle should be adjust to tilt, which has 10′~30′between the working surface of grinding wheel and the knife edge. The other, check the grinding head's principal axis's direction of circumgyration, then the grinding wheel started on the knife edge's bevel, move away in the same direction of the knife edge.
Range of grinding wheel
Grinding material

Granularity

Hardness

Combined bond

WA

46#~60#

H

B

V

A

J

PA

K
PS: please use PA level grinding wheel for HSS Machine Knives.
Range of sharpening amount
(1)Circumferential speed of grinding wheel Vs=15~25m/sec
(2)Relative vertical movement speed of grinding head and the workpiece Vt=14~30m/min
(3)Grinding feed amount f=0.012mm/str Coarse grinding MAX f=0.012mm/str Fine grinding f=0.005mm/str
Other requirements of grinding
(1) It must be using pressure coolant. Choose NO.1 metal emulsified cutting fluid or D15 mildew and rust proof emulsification fluid
(2)The whole grinding process should be uniform to sharpen
(3)If the grinding surface has light yellow spot especially cyanine spot, it was forbidden to grind.
Grinding temperature of surface should be less than 70°
(4)Please use whetstone (W5~W1) to grind the knife edge. Do not use hard wooden stick to get rid of the burr of the knife edge.
(5)Please keep beeline degree <0.2mm per metre after grinding and rubbing.
(6)Please prepare a wooden case for the finished knives in order to protect them.

Methods of rubbing to increase the capability of cutting knife
(1)Move on the edge with plastic patch or white paperboard, which is used to get rid of the small burr.
(2)Cling on the knife front edge with clean whetstone dipped with oil, then grinding as uninterrupted circumvolve way. See the following picture.
(3)Keep the whetstone clinged on the back edge extroversion (Bevel <1°) then grinding as uninterrupted circumvolve way.
(4)Repeat doing (2)(3) 3~5 times.

It is an important reason of knife edge broken that the temperature of grinding is too hot. The damage inside of metal can't be grinded even the spots turned colors on surface can be grinded. Following photo show you some cracks when the knife edge grinded in high temperature then cankered by acid. You can see the crack under magnifier which you can't see with your eyes. Most crack phenomena caused by that reason.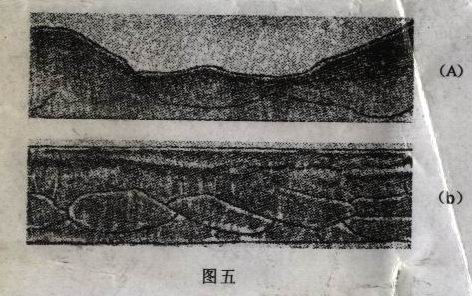 Following photo show you the same part of one knife.
(A) You can see the colour change but no crack.
(B) After the canker, the knife shows the cryptic crack. The small crack caused by high grinding temperature will expand affect the capability of cutting knife.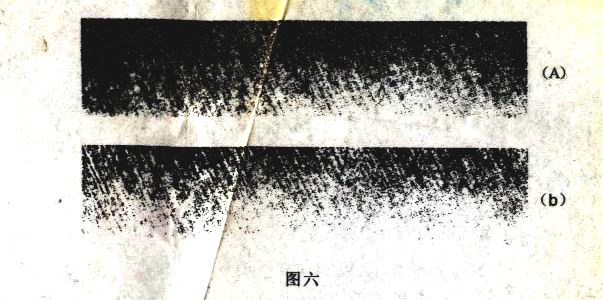 Dear customers, we warmly remind that machine knife is one of elaborate cutting tools. It's better to let skilled workers to make holes and notches. Please avoid incorrect process which will affect the knife's performance. If you still have questions, please contact with us freely. We are pleased to supply further assistance!
Thank you!